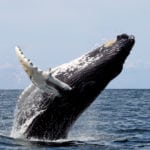 Join Biologists on a Whale Watching trip
Whale Watching
Keep an eye out for new tour operators popping up to take advantage of the many opportunities to view dolphins and whales along the Pacific Coast of Nicaragua. Whale spouts can especially be seen in the north, a common route for migrating Humpbacks headed toward the Golfo de Fonseca, bay which joins Nicaragua, Honduras, and El Salvador. Biologists from international research teams are currently identifying the Marina Area as an important region for whale study.
One of these research teams would love to show how marine biologists work on the field. When the wind forecast looks good between January and April, you can join them on a 4-hour whale & dolphin research trip with max. 6 other people.
This trip includes:
Boat renting, fuel and Nicaraguan Captain

Field guide on a cetacean identification

Water and snacks

Professional and experienced marine biologists dedicated to conservation and preservation of whales and dolphins in Nicaragua

Onboard research material and hydrophone to hear the sounds of the dolphins and whales

High-quality souvenir pictures of the trip
Join Biologists on a Whale Watching trip
Need Help?
Our team has got you covered. We're experts in all things Nahua!
US: 760-536-8338
Nica: 505-8396-1322
info@surfingnahua.com