In the Community
We believe in giving back to the places we live and love. For every dollar we make from the business of buying and selling real estate, we are able to invest directly into our community and with local organizations who are working to create positive change. 10% of all our commissions go back into the community.
We have a lengthy philanthropic history in Nicaragua.
Since we first arrived in Nicaragua in 2001 we have been honored to help those in need. Our export business began in 2001 and the Real Estate business in 2004. We are grateful that we have been able to help the community and even did so during the very slow years from 2008-2013 when we had zero profits!
Brian Ormonde
Our main philanthropic focus lies in education, urgent medical care and team sports.
Education
Education is our main focus.
"Education is the most powerful weapon which you can use to change the world" – Nelson Mandela.
We are very lucky to have such an amazing person, Meg 'Margarita' Boren, running the Circle of Empowerment foundation right in the heart of the community. We donate directly to the foundation which gives scholarships, supports teachers, runs the school bus and provides Saturday tutoring for more than 150 children. https://coenicaragua.weebly.com
We also give University scholarships directly to many of our 40 plus employees, children and grandchildren. Many of them study English, Nursing and Engineering at the Universities in Chinandega, Leon and Managua. During the hurricanes of 2020 we were able to raise over $4,000 to fix the roads in the bus route so that children could get to school.
We are also educating the community through the Surfing Nahua Playas Limpia recycle program where we clean the trash and recyclables from the Marina Puesta de Sol to Jiquilillo with each caretaker responsible for a 500 meter section of beach or road. This is a growing program for us that starts with recycling and teaches the community to use less plastic and put used plastic where it needs to go so it doesn't end up in our Ocean!
Education is the key to a good community and we've seen many of the children grow up to become contributors to making our community a better place!
Urgent Medical Care
When needed we help the locals with urgent medical care through the Circle of Empowerment foundation. We have helped with brain surgeries, moto/car accident recovery and other urgent surgeries. We also support the medical and dental clinics at the Circle of Empowerment. We are able to raise over $5,000 to have my father's dental chairs and X Ray machine transported from San Diego.
We are very lucky to have Margarita in our community and will continue to support her organization.
Jayme Broadhurst
Sports
We love sports!
"If you have a chance to accomplish something that will make things better for people coming behind you, and you don't do that, you are wasting your time on this Earth,"
— Roberto Clemente
Since baseball is The sport in Nicaragua that is where we can help most. We have supported teams since 2004 and will continue to do so. We often take a group of local kids to the baseball store in Chinandega to get them ready for the upcoming season. It is a pleasure to watch many of our teams take home the championship trophy. The greatest pleasure is seeing kids on those teams grow to become upstanding members of our community.
We also support volleyball, soccer, chess, surfing, cycling, triathlons in Nicaragua.
Can you help?
We can always use any help we can get so please contact us if you can help in any way……
See below how we also helped in the community back when we were Century 21 Gold Coast Realty.
Esteban Blanco of the Century 21/Inmobia team to race in Venice Italy
Esteban Blanco races for the amateur team of Liberia in Costa Rica. Century 21 Gold Coast Realty is sponsoring him to race in Venice Italy starting in August 2009 to race with Team Montolvani which is a regional team with a lot of recognition in Italy. Esteban HAS raced in Costa Rica with the Teams of Pizza Hut and Dos Piños. When in Costa Rica Esteban races for the Century 21/Inmobia team and in the picture he is shown winning the race in Leon, Nicaragua by over 8 minutes!!!! We wish him luck in Italy…….Ciao.
Esteban Blanco winning in Leon by over 8 minutes
Education – Century 21 Gold Coast Realty is always looking for ways to help improve the local community.Century 21 Gold Coast is committed to making a lasting social impact through inspired, responsible giving and by building strong partnerships with local charities and foundations. Our approach is to support endeavours that empower organizations to make a difference and inspire others. To maximize the impact of our donations, we focus our support on a select group of priority projects covering Education, Sports, and Community Issues.
A. Jean Brugger Foundation
The Foundation's core activities consist of three integral programs, including a school uniform program, educational scholarships, and hands-on job training. These programs provide necessary tuition, school supplies and clothing, practical skills training, and part-time jobs to ensure the ongoing secondary and university education of more than twenty local students each year (http://www.piedrasyolas.com/brugger_eng.htm).
English Instruction
After Mandarin, English is spoken by more people than any other language, and is the native language of more than 350 million people, is the international language of diplomacy, business, science, technology, banking, computing, medicine, tourism – Century 21 Gold Coast Realty offers each of its employees the opportunity to attend English classes on Saturdays at a reputable foreign language institute located in the capitol, Managua. Jose Ines Mercado, and Marjorie Bolainez from the Century 21 staff each went through all the English courses, and now they are able to speak and write in fluent English .
The Inner Circle of Empowerment Inc.
Children Are The Future
We're excited about the work being done by Meg "Margarita" Boren, the Director of The Circle of Empowerment.Grade school children are the toughest because of the indifference of their parents toward education. The vast majority come from extremely poor, single-parent homes. The literacy rates are very low. The first year, we bought them all the supplies they needed – clothes, books, backpacks – only to find attendance poor. Just half of the children passed their grade level classes. One mother sold her child's clothes and shoes.
So, in the second year, we are adding a few things. We added a Saturday class to help children with their homework. We added motivation to increase attendance. If kids attended 70% of their classes, and maintained grades of 80% or better, they got to take a bus trip to Campusano Water Park. All but four children made the trip in the first semester, and only one missed going in the second semester. All of this has paid off in great results. Twenty-three out of 24 students passed their grades this year and the out students are no longer at the bottom of their classes. Many are moving toward the top.We also donated to help start a library, using space in the grade school. The teachers had NO books to teach from, so half of the library consists of resource books for teachers. We also have a wonderful selection of books for all ages, in Spanish of course.We been helping in San Juan del sur 50 kids to go to school, and pay for all the necessary supplies, also we send 7 kids to college in Rivas and Managua and we pay for all the expenses. We also allow our employees time off to attend school and university and help pay for their expenses to do so.
Here are the girls we've been helping go to school:
Yessica Alexandra Sanchez Gurmendia, the younger sister of Scarleth. She is 15 and is attending her 4th year of secondary school
Marling Sugey Lopez Herrera obtained her Baccalaureate thanks to the economic aid that Century 21 Gold Coast Realty has provided. Her father, Victoriano Herrera – a local cattle rancher, is thankful for this enormous gesture from Century 21 Gold Coast Realty, Marina Office. Century 21 Gold Coast Realty will continue to support her further education in a degree she will choose in which to better help the local community as a Doctor or Accountant.
Scarleth Patricia Sanchez Garmendia is in her 3rd year at UACH (the Universidad Autonoma de Chinandega) in the area of Ingenieria de Systemas. She is a strong student holding a GPA above 80%. At 19 she is mature for her age and presents herself with an air of confidence. She is already well on her way to developing her professional persona!
This is Suyda, Prima of Scarleth. She is in her fourth year in secondary school.
Century 21 has helped with teacher salaries for the high school and provides funds to help cover transportation, housing and other expenses for students. View Brochure.
Sports
Sport is the most popular pastime in the world. It reaches across gender, age and language. It holds a place in society that is free to teach without restraint. Century 21 Gold Coast Realty supports many different teams in Nicaragua: Baseball, Basketball, Volleyball, Soccer, Surfing and Cycling – and each of our teams have been champions.
Century 21 Gold Coast Realty Champions
Little League Baseball
We take our involvement with the community very seriously. Century 21 Gold Coast Realty sponsors 8 baseball teams around the area. We provide the uniforms, equipment, transportation, umpires, league fees, field maintenance and trophies. Our teams have won the Baseball championship.
Community Baseball
Century 21 Gold Coast Realty and "Hermanos Unidos" would like to thank Scoot Beebe for his recent contribution to the team and the community. Scott owns a lot in Los Clavos, Northern Nicaragua and believes in helping the Nicaraguan community. He, through his new company, Nicalist.net, a new Nicaragua Classifieds website, has donated $100 to Century 21 employee, Boris Garmendia, to help him purchase his baseball team's uniforms and sponsor the team. Scott and Nicalist.net are dedicated to Nicaragua and will continue to invest in the Nicaraguan community.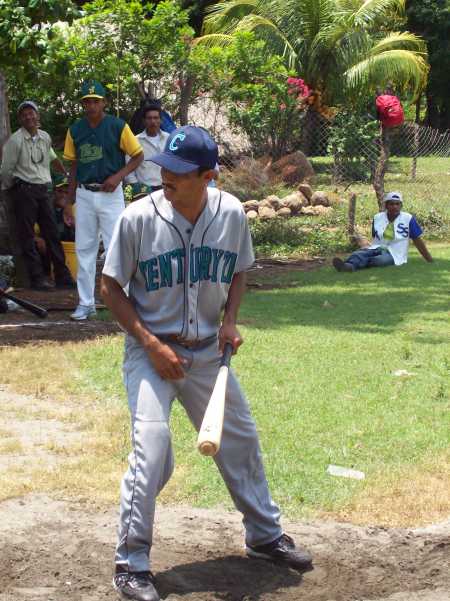 The team "Hermanos Unidos" is composed of players from the Manzanillo Community. These communities are: Aposentillo, Nahualapa, Playa los clavos, Santa Maria, Marina Puesta Del Sol, and Las Chancletas which have the best surfing waves. It is a goal of Century 21 Gold Coast Realty is to help sponsor and support young people to follow their dreams and help them become champions.
News Alert!
The 2008-2009 Baseball season ended with the team of "Hermanos Unidos" from the community of Manzanillo, Chinandega representing Century 21 Gold Coast Realty, winning 4 of the 7 game series to win the championship.
The players, and the local baseball community are grateful to Century 21 Gold Coast Realty for supporting the team and the sport. Hip hip hooray, hip hip hooray!!!!!
Surfer Sponsorship
Surfers represent a diverse culture. Some people practice surfing as a recreational activity, while others demonstrate extreme devotion to the sport. 2008 has been a good year for Century 21 Gold Coast Realty surf team, Rex, Norwin, Pedro and kali, have won the championship from the last two contests, one of these contests was the international contest in Panama, where Rex won the first place in junior division. The second contest was in Popoyo, Nicaragua. Our boys took the two top spots in both age categories. Congratulations Team!!!!
Surfboard Donations
Century 21 Gold Coast Realty recently donated Santa Cruz surfboards to help local kids compete in contests in Panama. Rex Calderon and Roque Calderon will also compete in surf competitions in Leon and Rancho Santana. And it's not just about catching waves – one of our local surfers needed an operation to repair damage caused by nitrogen bubbles due to a sudden decompression. The bubbles can cause extreme pain and can even result in death. We were able to help Oliver Solis with his medical expenses and now he's ready to hit the surf again.
Bike Nicaragua
Century 21 Gold Coast Realty was the lead sponsor of a bike race in Managua this April. The race had more than 60 participants who rode between 40 and 80 kilometers. There were five different routes, marked by signs and hydration points – all sponsored by Century 21.
We are going to have our team competing in a major upcoming event in San Juan del Sur with many riders, media coverage and attention focused on the beauty of the town and its surroundings.
Championship
Rivas 2006 – 1st Place – Barry Oliver.
Liberia 2007 – 1st Place – Barry Oliver.
Donation
Last October we donated money for Cri Cri surgery, he had a terrible accident (he was run over by a bus in Managua and suffered punctured lung, bruised heart, broken ribs, numerous broken bones…we almost lost him!!) while he was training for a bike race, now he is all healthy and back to training on his bike.
Basketball Team
Gold Coast Realty supported San Juan del Sur's basketball team for its 2008 Championship season. Basketball is a great sport that involves team spirit, physical activity, and competitiveness.
San Juan del Sur Volleyball Tourney
Like most sports, winning in Volleyball has a great deal to do with momentum, Century 21 Gold Coast Realty Sponsored the volleyball team, and they won the championship.
Community
Century 21 Gold Coast Realty is empowering disadvantaged rural communities around San Juan Del Sur, Popoyo and Chinandega. We recognize the enormous potential people can achieve by working together and creating a long term impact.
San Juan del Sur
Century 21 Gold Coast Realty helps the community of San Juan del Sur by donating funds toward new trash cans and a recycling campaign for the town.
MARENA (Ministry of Environment)
In February 2008 C21 Gold Coast Realty, supplied needed funds and equipment for the Ministry of Environment's forest fire efforts.
OneKid OneWorld
Century 21 Gold Coast Realty is proud to support this organization, co-founded by one of our own, David Brownlee. OneKid OneWorld is an organization dedicated to making a difference in children's lives by partnering local Los Angeles schoolchildren with rural schoolchildren in war-torn and poverty stricken areas of the world. Learn more. [http://www.onekidoneworld.org/]
SurfRider Foundation
Century 21 Gold Coast Realty is proud to support SurfRider, an organization that works to protect our oceans, waves, and beaches. Learn more. [ http://www.surfrider.org/]
Need Help?
Our team has got you covered. We're experts in all things Nahua!
US: 760-536-8338
Nica: 505-7811-9521
info@surfingnahua.com