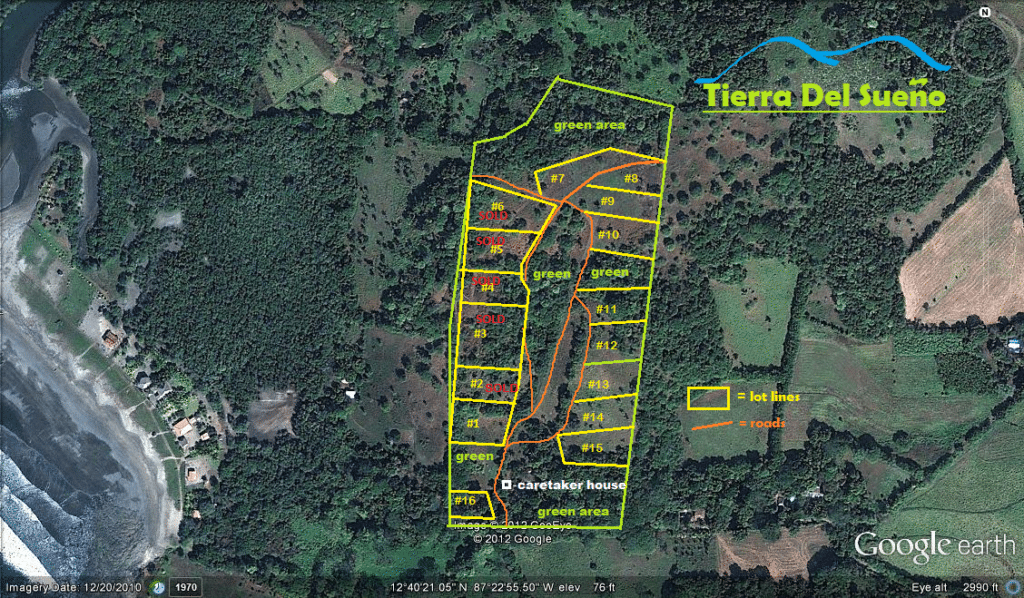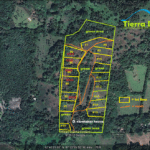 Tierra Del Sueño! Dream Lot
LM-133
Lot

For Sale

Property Ownership Status : Clean Title
Land Size: 0.50 Acres
From
$

75,000
Tierra Del Sueño
Tierra Del Sueno is a small, low-density, ocean-view community development with large lots and plenty of green space to maintain the larger patches of forest, protect the privacy of lot owners, and preserve the natural beauty of the area. There are 15 lots sized at approximately 1/2 of an acre that will include road access, security, power and water. The 19 acre parcel is composed of two ridges overlooking Nahualapa Bay about 6 Km North of Asseradores, Chinandega, in Northern Nicaragua. The ridges are 200-300' above sea level and are oriented north-south allowing both ridges ample sea views. The lower ridge allows shady tree-filtered and open views of the sandy bay, waves, white water, and rocky points, while the upper ridge features a more expansive unobstructed, near-180 degree ocean view to the South, West, and Northwest.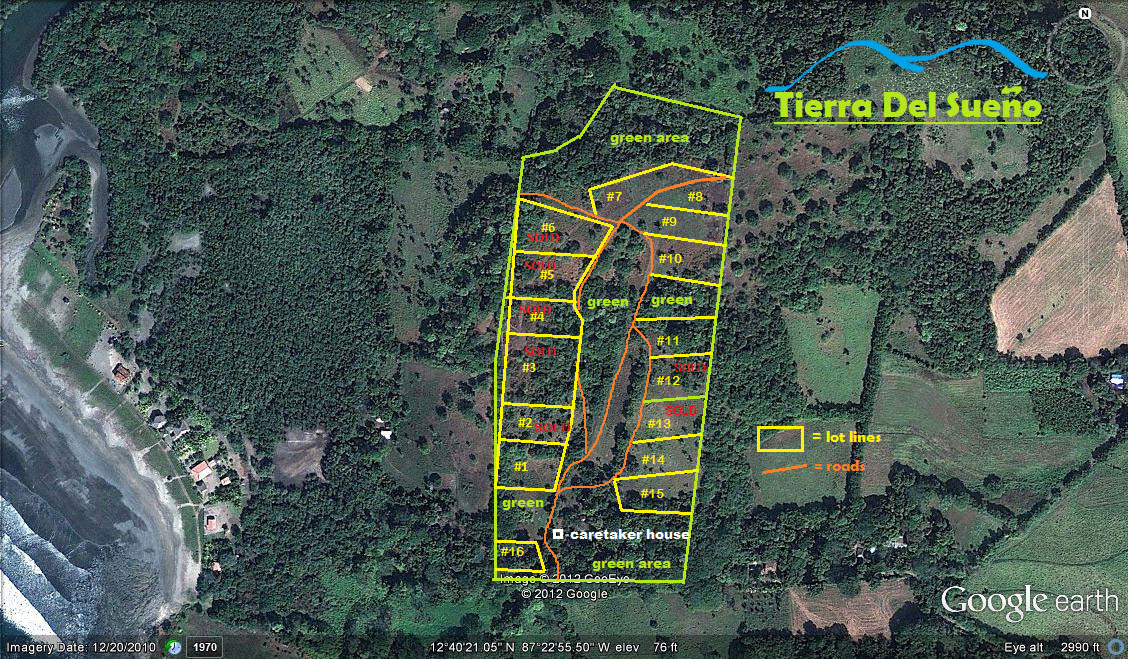 Phase one lots (left side on drawing above) #1-6 are sold.  #1 may be available at the end of 2017 as a resale with a newly built 2 bedroom, 2.5 bath, 2 story hacienda style house (https://hipehabitat.com/2017/02/16/new-construction-at-tierra-del-suenos/)- this large lot has a great surf and sea view plus a big flat area down below for gardens and outbuildings.
Phase two (back ridge), lots #7-15 all have spectacular sea view with upper lots having sea view from NW to SW, 180 degrees! Prices as of Feb. 1, 2017.  Lots #14 and 15 have just been put up for sale by the developers, they are a little lower on the ridge and have less sea view than the uppers, but still great from a second story!
Phase I
#1    In construction, possible resale, price TBD when house completed…
#2-6    Sold
Phase II
#7    RESERVED
#8    RESERVED
#9    RESERVED
#10  $89,000
#11  $85,000
#12  $80,000
#13  $75,000
#14  SOLD
#15  SOLD
#16 Commercial lot- RESERVED
Lot#2 at $55K,
Lot#4 at $65K
Lot#6 at $120K
Tierra Del Sueño! Dream Lot
LM-133
Lot

Property Ownership Status : Clean Title
Land Size: 0.50 acres
From
$

75,000
Need Help?
Our team has got you covered. We're experts in all things Nahua!
US: 760-536-8338
Nica: 505-8396-1322
info@surfingnahua.com