The lifestyle of Northern Nicaragua: fishing
Fishing Nicaragua. Early in the morning, you leave your house, head to the boat lounge in Aserradores. In this small fishing village in Northern Nicaragua, the local captain is waiting for you to come on board. From the beautiful estuary out to open waters. With volcanoes, palm trees and beautiful sunset in the background, you hope to drag in your exotic catch while sipping your Toña. Who does not dream of a life surrounded by this idyllic environment?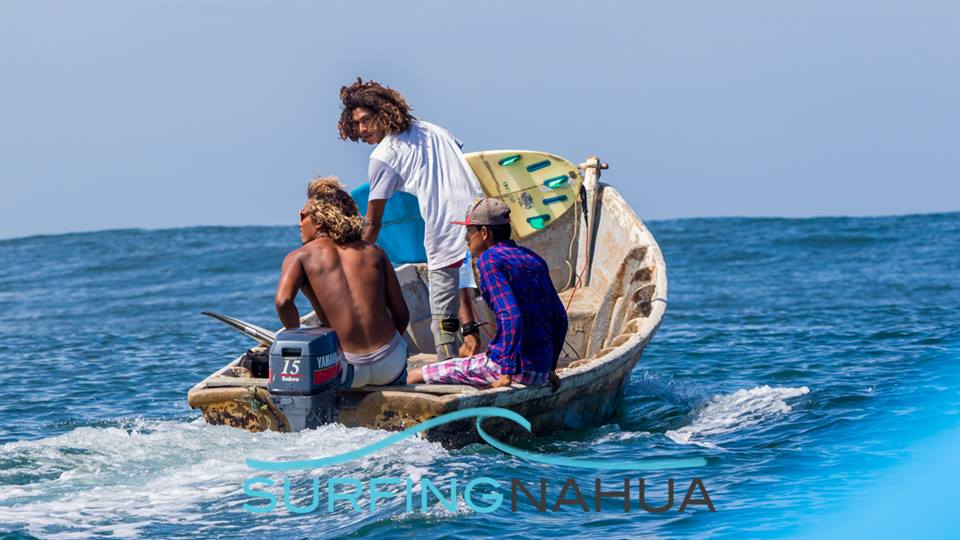 Northern Nicaragua is not only known for its world-class surfing. The Pacific coast of Nicaragua is the new, exciting place for big game fish in Central America. Join us for blue water adventures in search of fish.
A first-hand account of the action 
Our friend Peter Corselli, the owner of the Rental Casa Corselli (located right on the Boom/Playa Aserradores) reeled in this beauty from the estuary. 'I made a few casts in the surf and caught a small jack. It was a perfect size but I didn't have a hook tied on my other rig so I left it on the hook and tossed it back while I ran up and rigged my other rod. I got a hook tied on, dragged a small tree close to the water so I could lean my other rod on it, and quickly hooked the bait. It took about a minute and then got hammered by the snook. The fight didn't last too long, took place in small surf. I dragged the fish up the sand and then all the way home.
It should make at least 4 meals for Michelle and I plus a couple for the caretakers. They will make soup out of the carcass plus the filet I gave them. Pretty great down here in Nicaragua.'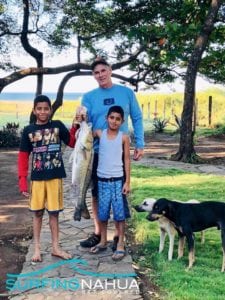 Do you dream of a fishing experience like this? Surfing Nahua m it happen for you! A local captain will take you out on his fishing boat, share his knowledge makes sure you will catch the best fish of your holiday. After coming back from your fishing trip, don't forget to have a local cook up your prize catch or prepare it "ceviche-style" for the full Nicaraguan experience.
Fishing Nicaragua Tournament
Besides just hobby fishing in Northern Nicaragua, Marina Puesta del Sol hosts a highly successful and prestigious IGFA sanctioned tournament once a year. This year will be celebrated with their 14th edition! This three-day event brings top anglers from 10 different countries. Flor de Caña, Nicaragua's premier, world-renowned and award-winning rum sponsor the event, which objective of promoting tourism in the region.
However, one tournament a year is not enough to quench the appetite for sports fishing competition. For that reason, Marina Puesta del Sol also hosts an annual Marina Puesta del Sol Tournament. This event includes boats of all sizes with prizes for the most successful teams and individuals, as well as special categories for ladies and juniors.
What is the best time to come to go fishing Nicaragua?
There is not really any bad month to go fishing the Pacific coast of Nicaragua. Something is biting every month of the year. Roosterfish, sierra mackerel, jack crevalle, bonito, houndfish, snapper and grouper in the inshore waters and roam black, blue and striped marlin, sailfish, yellowfin, wahoo, and dorado in offshore waters.

So what are you waiting for?
Come quickly for a unique holiday & fishing experience in this beautiful country.